Purificación de PCR
El sistema Agencourt AMPure XP es un sistema de purificación de PCR sumamente eficiente y de automatización sencilla que ofrece ADN de calidad superior sin arrastre de sal. Dado que no requiere de centrifugación ni de filtración, Agencourt AMPure XP puede usarse fácilmente en formatos de 96 o 384 pocillos manuales y automatizados.
AMPure XP Workflow

Product Features
Características de Agencourt AMPure XP
Alta recuperación de amplicones, superior a 100 bp
Eliminación eficiente de dNTP no incorporados, iniciadores, dímeros de iniciadores, sales y otras sustancias contaminantes
Productos PCR estables después de la limpieza: Sin degradación de PCR después del almacenamiento a 4 °C durante siete días
Recuperación eficiente de plantillas de ADN bicatenario y monocatenario
Recuperación constante durante los 12 meses de vida útil del kit
Procesamiento manual y automatizado más rápido en comparación con los métodos de limpieza post-PCR tradicionales
High Recovery
Efficient recovery of your sample ensures that critical data is not lost within the workflow.
Alta recuperación
El sistema de purificación Agencourt AMPure XP recupera los amplicones superiores a 100 bp sistemáticamente y con alta reproducibilidad. La eficiencia de recuperación del kit Agencourt AMPure XP para tamaños de amplicón pequeños y grandes es superior a los métodos de limpieza de PCR por filtración tradicionales (Figura 1).
Automatización sencilla
Agencourt AMPure XP posterior a la limpieza de PCR se ha automatizado para posibilitar la ampliación del proceso en tres manipuladores de líquidos de Beckman Coulter, el Biomek 4000, NXP y FXP. La funcionalidad de automatización compatible con LIMS es asistida por una interfaz fácil de usar, equipada con un menú de inicio rápido, un menú de guía de configuración de plataforma, un menú de recuperación del método y un menú de procedimiento.
Product Specifications
| | |
| --- | --- |
| Application Uses | Purification & Clean-up, PCR Purification, DNA Purification, Sequencing, NGS Clean-up, PCR clean-up |
| Format | Liquid |
| Starting Sample Material | DNA |
| | |
| --- | --- |
| Automated Available | Yes |
| Item Specifications Referenced | A63882 |
Don't Lose Critical Data
When so much more has been invested in your research, AMPure XP is the only choice for purification and clean-up steps. Loss of yield during this critical step leads to loss of discovery in your research.

Relative costs of the different steps required to perform various NGS applications. Steps include Extraction, Library Construction, Library Enrichment, Clean-up, and Sequencing. Costs were calculated based on average list price of commercially available kits and reagents in 2017. Clean-up efficiencies were calculated by determining the total DNA yield by Picogreen Assay after performing a clean-up procedure on a known amount of DNA. The percent yield relative to AMPure XP performance was then used to calculate the impact of efficiency on various commercially available library construction methods and a change in purification reagent.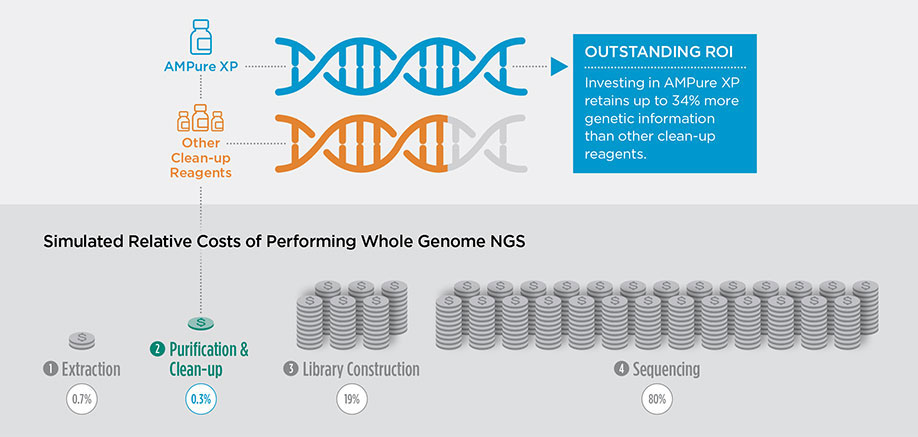 Technical Documents